Tuesdays are a fun way to meet some new friends and MAYBE, just maybe, find a delish new recipe to try on the family.


Here is a quick and delicious recipe that uses left-over chicken...
Chicken in a biscuit cups
1 to 2 cans of refridgerated biscuits
1 cup of diced chicken breast
1 (10.5 oz) can of cream of chicken soup
2/3 cup of shredded cheese
1 tsp parsley
1/2 tsp thyme
1/4 tsp pepper
Preheat oven to 400 degrees. Separtae biscuits and place one in each cup of a muffin tin,
pressing sides to ctreate a "cup".
In a bowl, mix chicken soup, cheeese and seasoning
Spoon mixture into the "biscuit cups"
Bake for 12-15 minutes or until golden brown.
This may not be the healthiest thing you could eat, but it's quick,
uses left-over's and must be healthier than a pizza!
Tuesday Tag-a-long
If you are looking for LOTS of new blogs to check out, why not try Tuesday Tag-a-long: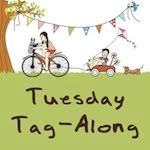 See you there!
XXXXXXXXXXXXXXXXXXXXXXXXXXXXXXXXXXXXXXXX
Get printable coupons! Join the forum! Save, Save, Save!
XXXXXXXXXXXXXXXXXXXXXXXXXXXXXXXXXXXXXXXX