Wow, it's a busy time! As I mentioned last week, Golden Child got his liscense! He has some money set aside for a car, and has been on the look out for one for a few weeks. The other day, Princess Der and I set out for a day of Flyer distribution- namely flyers about our 1/2 price dental and health plans.

While traveling around, we checked out several cars we saw for sale. We ended up finding a pretty nice Ford Contour ( I think 1998). It's in great condition- very minor rusting under the passenger door on the drivers side- a few nic and dings...but get this! It was only $400.00! It has new breaks, new gas lines, new tires. All it needs is some kind of sensor and a gas tank strap. Seeing that Ron is a mechanic, it should be no problem. I HOPE & PRAY there isn't stuff we don't know about. But Golden Child has a little extra set aside in case. Here's a pic of it - check out Golden Child!





xxxxxxxxxxxxxxxxxxxxxxxxxxxxxxxxxxxxxxxxxxxxxxxxxxxxxxxxxxxxxxxxxxxxxxxxxxxxxxx

Princess Der went to the rheumatologist and she is going to be doing the shots. She got one yesterday. We are going back to her pediatrican next week for another. They are going to let Princess do it herself( since that's what princess wants.) If she does ok, she will give her own every week from now on.

She has given shots to goats- how much harder can it be to give it to yourself?

xxxxxxxxxxxxxxxxxxxxxxxxxxxxxxxxxxxxxxxxxxxxxxxxxxxxxxxxxxxxxxxxxxxxxxxxxxxxxxx


Tomorrow, we go to the Great NYS Fair!
My sister is traveling to Pennsylvania from Virginia to visit my Mom and Uncle this weekend. I was going to go to PA sometime over the weekend to see everyone, but had to fit the fair in somewhere. We only go every couple of years, and I promised Princess Der we could go this year. So, I asked Mom and my sis why they weren't coming- my mom usually comes up and goes several times.
So, we decided to meet at the fair. I will probably still pop down to PA for a night either after the fair tomorrow or Sunday. It's about a 3 hour drive. I would like to be home Monday. I have been preparing to have a lawn sale (someday!) and this is really the last weekend of summer. We have several camps around here, so...
I was hoping to get my new business cards before then. I just ordered them - 250 for free for standard cards, a little more for 2 sided. Here's the front of my new card:
A little hard to read, I know. But pretty colorful, huh? This side is the work at home opportunity. The other side is about our health plans.
xxxxxxxxxxxxxxxxxxxxxxxxxxxxxxxxxxxxxxxxxxxxxxxxxxxxxxxxxxxxxxxxxxxxxxxxxxxxxxxxxx
I just had to show this pic....Little Man has Poppa wrapped around his little finger! Talk about slave labor!
xxxxxxxxxxxxxxxxxxxxxxxxxxxxxxxxxxxxxxxxxxxxxxxxxxxxxxxxxxxxxxxxxxxxxxxxxxxxxxxxxxxxxxxxxxxxxxxx
Moving on...
It's Friday! That means one thing....Virtual Girls Night Out!
What you need to do is get your hide over to Ann's blog (now!) Add your link. Check out the other blogs listed and leave a comment.
http://annagain66.blogspot.com/
Hope to see ya'll there!
P.S.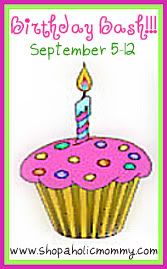 Shopaholic Mommy
is having some great give-aways in honor of her daughters birthday. Hop on over & check it out!